ThePowerMBA program from ThePower Business School is far from traditional — in fact, it's only been available outside Europe since 2020.
I was in the first US-based cohort, and this review is based on my personal experience as a ThePowerMBA student and community member over the past two years.
What to expect from this review
A comprehensive overview of costs and benefits of the ThePowerMBA and ThePower Business School
A detailed comparison between ThePowerMBA and other MBA alternatives like MOOCs and Executive Training Programs.
How I leveraged ThePowerMBA networking program to land 7-figures in business and increase my compensation by more than 20%.
Is the PowerMBA a good value?
In my case, ThePowerMBA program paid for itself quickly and introduced me to dozens of colleagues at top-tier companies like Waze and Google who are now close friends. (Here's my testimonial in a Waze ad as proof!)
Overall, The PowerMBA is more like a cohort-based course and less like a traditional "MBA" as the name describes. In short, it's an MBA alternative — but not an MBA replacement.
Compare the price-to-value ratio below to see why that's actually a reasonable deal:
| Program | Price | Brand Recognition | Accreditation |
| --- | --- | --- | --- |
| MOOC | Free | High | Degree or certificate not granted |
| Online Course | $49-2000 | Low | Typically unaccredited |
| ThePowerMBA | $800-1000 | Low | Unaccredited |
| Cohort-based online course | $2000-8000 | Low | Unaccredited |
| Ivy League Executive Training Program | $35,000-60,000 | High | Typically unaccredited |
| Traditional MBA | $100,000-200,000 | High | Accredited |
What is the value of a program like ThePowerMBA or ThePower Business School?
Overall, the ThePowerMBA is highly tailored to mid-level management at tech companies. If you're a few years into a tech career and transitioned from tactical to strategic management work at the Manager/Director level in the past couple years, you'll be a clean fit.
It's less valuable if you're already at the VP or C-Suite level, or if you're still struggling to get your foot in the door. At this level, the coursework is not tactical enough to be helpful for entry-level roles.
Access to decision-makers and fast-growing leaders at FAANG companies is high-value if you're in management, marketing, or sales. But it may not be worth the ticket price if you're in a more technical role.
Pros & Cons of the PowerMBA
Low cost compared to MBAs or other cohort-based courses
Top-tier instructors from large tech companies like AirBnB and Google
Q&A with successful tech executives on top of pre-recorded course material
Lifetime access to community and networking aspects of course
Not accredited, and therefore not the right choice if you're looking to stack certifications or logos on your resume
High-level course content makes it a good fit for middle-management but not a clean fit for entry-level or VP-level professionals
Where PowerMBA Fits in the Post-Grad Landscape
At a high level, you're paying for three things with a post-grad program:
Networking and community
Recognized logo or certification for your CV
High-value coursework
Note that I put the actual coursework last on the list.
The placement isn't accidental; in my opinion, networking is by far the strongest value in any MBA or cohort-type program. Networking opportunities is where PowerMBA provides the highest value relative to the alternatives.
As I'll describe in detail below, the PowerMBA delivers an amazing network at a reasonable price, and the coursework is solid as pre-recorded material goes.
The only place it falls short is the brand recognition — but to be fair, that's not what they're selling at such an affordable price point.

PowerMBA vs Traditional MBAs and Executive Education Programs
The second-most important part of any paid program is the recognition.
I know several C-Suite executives who have gone through "executive education" programs like Harvard (HBS) specifically to put the logo on their LinkedIn.
For those already in a high six-figure role or running a seven-figure-plus company, $40,000 to put Harvard's logo behind your name is a screaming good deal.
Brand recognition is where the PowerMBA falls short. At a fraction the cost of an Ivy League exec program, I personally feel it's reasonable.
All told, the PowerMBA experience is about 3% of the price of an executive education program like those offered by Harvard, or through Emeritus (disclosure: Emeritus is an agency client I've worked on through Rootstrap).
But if you're after a logo more than an education, you should look to the traditional business schools. There is not yet an online or "modern" (AKA affordable) equivalent that is widely recognized.
PowerMBA vs online courses and MOOCs
When it comes to coursework, the PowerMBA is decent but I'd price it closer to $450 if it didn't have the community and cohort aspects. The modules are well-produced and it feels more like watching an engaging documentary on Netflix than sitting down for MBA material.
However, if the only thing you're after is coursework, I strongly recommend you check out some of the MOOCs (Massive Open Online Courses) along with similar Ivy League courses freely streamable on YouTube and elsewhere.
Actually, you should definitely check these out anyway. Access to elite advanced coursework is one of the true marvels of the internet age and too few people actually take advantage.
A few of my favorite MOOC-type courses:
I've even seen some professionals — even some quite successful ones — list these as logos on their LinkedIn accounts in lieu of actual degrees: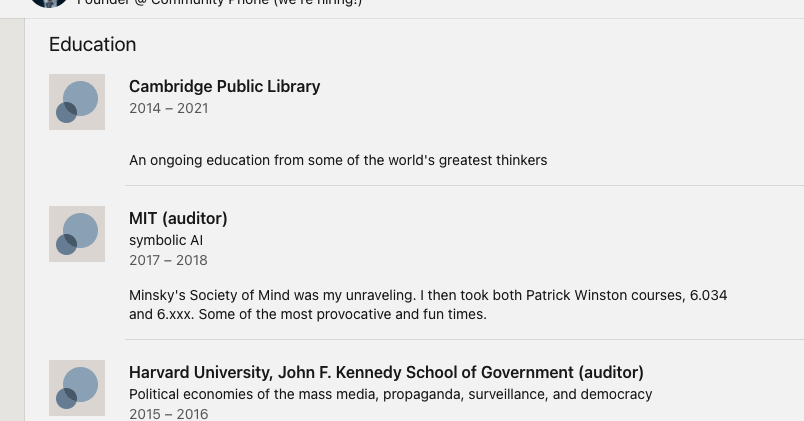 Anyway, back to the topic at hand…
In terms of material depth, I'd describe the PowerMBA as being similar to ultra-practical business books like the Personal MBA. However, the slant is much more into tech.
My favorite modules were the ones that went deep on topics like SaaS revenue optimization and analysis of large platform and FAANG companies. This is where the access to actual C-Suite strategists at the big tech companies shined through.
Is the PowerMBA a good MBA alternative?
The PowerMBA is not an MBA alternative. It has more in common with a cohort-based online course than a traditional MBA.
To that point, several of my cohort members had actually already completed a formal MBA before joining the PowerMBA. For them, the value was in ongoing educational material and access to the local networking events. (I cannot stress enough how valuable this is, especially if you're in a tech hub like Los Angeles, New York, or San Francisco.)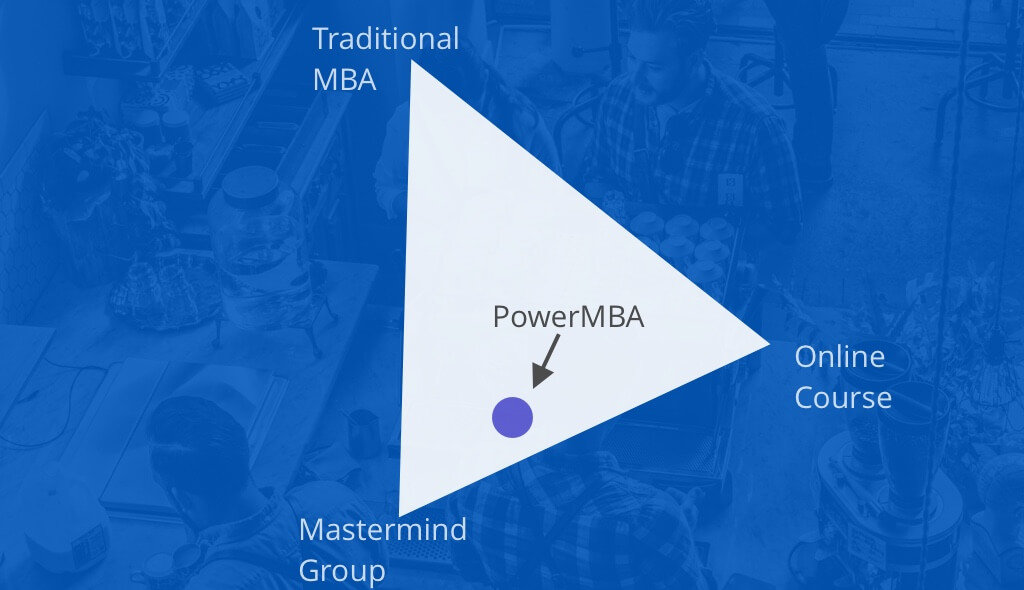 Several other of my cohort members have since gone on to start a formal MBA, or plan to do so when they're closer to the VP level. For them, the value was in building community and testing the waters.
For me personally, I've been quite vocal in my opinion that MBAs are overpriced — in the US and Australia, at any rate. Check out my byline on Business Insider for more on that topic.
Schools like Harvard and Yale actually make a huge chunk of their revenue on post-grad programs, and it shows in the price tag. $78k/year for undergrad isn't exactly a loss-leader, but it's small change compared to the cost-in-cost-out of operating graduate, business school, and executive training programs.
All that said, I may well do an executive education program somewhere with strong brand and community recognition like MIT or Harvard in the future. At a certain point, logos are worth paying for.
The PowerMBA is just a better fit for this stage of my career.
Impact of the PowerMBA on My Career
The PowerMBA has had three big impacts on my career progression to date:
Added 19+ contacts at FAANG and multinationals to my personal roladex.
Shown my employer that I take my management education seriously.
Given me a well-rounded exposure and vocabulary around scaled tech strategy.
As mentioned in the intro, I can directly trace 7-figures in contracts landed for my employer to networking through the cohort groups in PowerMBA.
While that's obviously contracts landed for the agency where I work as a marketing director and not for me personally, it's certainly reflected in my bonus; as well as my rapid progression in terms of resources allocated to my team.
If you've worked in sales, marketing, or biz dev, then you know how hard it is to launch into cold contacts to sell software or services.
Paid communities like the PowerMBA social platform are, in my opinion, a huge hack right now for reaching qualified buyers and getting warm intros. I won't give out the other communities I'm in, but let me put it this way: $1000 is very cheap for building relationships with mid-level talent at major tech companies.
In terms of certifications, it's not the most glamorous CV booster. But in my case, my boss certainly appreciated seeing that I was doing ongoing coursework. When you're negotiating your position at a company, it never hurts to prove that you are leveling up with your actions outside work.
Finally, the coursework was particularly strong on go-to-market for platform companies and SaaS business models. While I focus more on agency work personally, it's been very useful for "talking the talk" when engaging with our major-brand clients.

Who should join the PowerMBA Global Program
The PowerMBA program is best suited to tech industry management and business people who are in the mid-level management or director level.
The program will be a bit heady for someone just entering the workforce and doing tactical rather than strategic work in their day job or company. These students should look to tactical courses and come back to the PowerMBA when they have more management and work experience.
On the other end, the PowerMBA is likely to be too broad for someone at the VP or C-Suite level. Executives with more than 10–15 years work experience in total are usually better suited by an executive training program. At their level, paying a premium for the logo and networking aspect makes sense.
---
Frequently Asked Questions
Is ThePowerMBA Program Legitimate?
For tech and business professionals, the PowerMBA is a legitimate high-value investment that provides well-produced strategy modules and high-end networking opportunities for 3% of the cost of a traditional executive education program. While it is not accredited, they make no claim to be and most confusion on this point stems from their use of the 'MBA' term in marketing materials.
How much does the PowerMBA cost?
As of 2022, ThePowerMBA costs $999 for a 9+ month program. The price includes recorded course material from top tech executives (15 minutes per day), as well as in-person and virtual networking events locally and globally. The networking and community platform is lifetime access, while coursework is locked after 15 months.